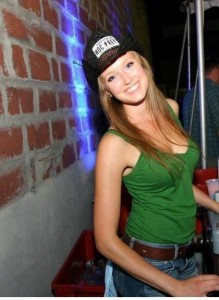 Allison Burton is participating in the 2017 Dream Mountains Kilimanjaro climb, in support of ONFE School Breakfast Program.
Hey everyone!
I'm Allison Burton, but you may also know me as Alli Bee. In my mind, I am Batwoman, but that's another story entirely. I currently work for the Correctional Service of Canada in the Human Rights Unit, and I am looking forward to completing my Doctorate in Clinical Psychology.
In April 2017, I will be in Tanzania and climbing to the summit of the world's tallest freestanding mountain, Kilimanjaro. I have to be honest with you, this was not a goal I had considered for myself in my lifetime; however, when the opportunity presented itself, I was ecstatic to join Shawn and my fellow climbers in this challenge. We will travel together through humidity and snow to climb to more than 5800m in elevation! Sweaty snapchats, instagram collages, and a facebook live chat are likely.
That said, training and climbing this mountain is only one part of the equation. Each stair I climb and step I take is in dedication to the ONFE School Breakfast Program. The goal is to raise $5000 for this wonderful charity that provides a hot breakfast for underprivileged children in Ottawa. $5000 also means 5000 meals, or, $1 per breakfast. What do you do with $1 every day? Do you even notice how many of those loonies you spend? A child will certainly notice when they haven't eaten breakfast, and I propose that the best value for that $1 is a hot breakfast for a child who needs one. I can tell you how important breakfast programs like this are, based on my personal experience. Sometimes, this is the best (or only) meal a child will receive all day. For them to go without, is simply unacceptable. I trust that the community of Ottawa will help me provide 5000 meals before I leave in April.
I am so honoured to be a part of this incredible group of dedicated volunteers, raising money for all seven Dream Mountains charities. I am privileged to have grown from a shy foster child to a young woman with the ability to give back and help children go to school with full tummies. Please support me in this endeavour to give back to the community of Ottawa and take on this challenge!
Thank you so much for your interest, support, and generosity!