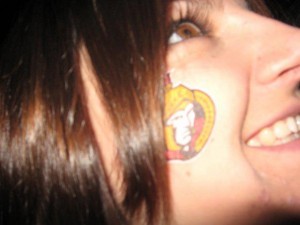 Augustina Dunev is participating in the 2018 Dream Mountains Everest Base Camp trek, in support of the Ottawa Senators Foundation.
I can't believe I get to do this again!
In early Fall 2016, I joined a friend for a presentation hosted by the Dream Mountains Foundation, about a trip they were organizing to Mount Kilimanjaro in 2017. This had always been on my bucket list, but I was going to this session for information purposes only. I had no hiking experience and none of the equipment I needed, so I quickly decided that for me, this trip would have to wait until another time.
This past April, I joined the rest of the 2017 Dream Mountains team as we summited Mount Kilimanjaro. Fast-forward four months, and I'm ready to do it all over again, this time to Everest Base Camp! High altitude memory loss must really exist if we were this quick to sign up again, especially when I think about the words "stair training".
But then, a whole new set of thoughts came to mind. I remember the friendships forged and the memories made, I think about the impact each of us had on each other and the charities that we supported and fundraised for and the sense of accomplishment that came from knowing you were a part of something that was bigger than you. Cheesy? Maybe. But it also might part of the reason most of us didn't hesitate to embark on this adventure again and raced to get our submission forms in!
This year, I have decided to support the Ottawa Senators Foundation.
Please give generously. With your help, projects like the Sens Campership program, the Sens Rink project, and the Roger Neilson House will continue to ensure the youth of tomorrow have the opportunities they need to live healthy lives.