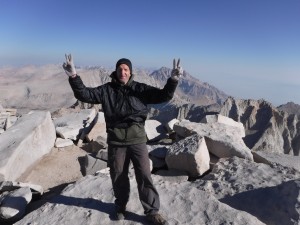 Byron Johnson is participating in the 2017 Dream Mountains Kilimanjaro Trek, in support of Habitat for Humanity.
I am very excited about doing this adventure. I love doing things that challenge me physically and mentally.
I'm proud to be hiking to support the charity Habitat for Humanity – one of seven charities supported by this adventure. 100% of all donations goes to support the programs of Habitat for Humanity and is eligible for a tax receipt as this charity is registered with the Canada Revenue Agency.
The story of Habitat for Humanity begins in 1976 in Americus, Georgia. Internationally, Habitat for Humanity now operates in 100 countries, has built over 200,000 houses, and shelters 1 million children and adults around the globe. A new Habitat home is built every 8 minutes! Habitat for Humanity Canada now has affiliates in every Canadian province and Territory. Habitat for Humanity Greater Ottawa (Habitat GO) became an affiliate of Habitat for Humanity Canada in 1993.
Potential Habitat for Humanity partner families are low-income, working families living in inadequate housing and who are willing to put in 500 hours of "sweat equity." Habitat for Humanity does not compete with other builders as Habitat services a clientele who could never afford to buy a house or qualify for a conventional mortgage. Houses are built by volunteers, skilled trades people and journeymen who are caring individuals, enthusiastic about giving a family "a hand up, not a hand out". Manufacturers and distributors in the construction industry donate their products to help build houses and reduce costs. The real miracle of Habitat is that it not only changes the lives of the families receiving the house, but it provides a tremendous sense of purpose and fulfillment for many volunteers and supporters.
I have been thinking for several years about the possibility of climbing Mt. Kilimanjaro but always thought of doing it in a few years. This summer's hike of the John Muir Trail in California with the summiting of Mt. Whitney (4421m) was, to my mind, a test toward climbing Kilimanjaro or similar climb. Then, I found out about the Dream Mountains excursion and was so impressed by its program that I had to sign-on. I know the trek up Kilimanjaro will be an amazing experience. Please support me by supporting Habitat for Humanity.