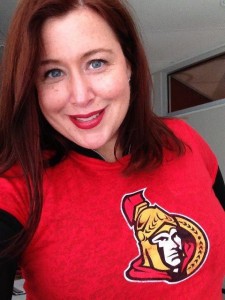 Danielle Robinson is participating in the 2016 Dream Mountains Machu Picchu trek, in support of the Ottawa Senators Foundation.
On May 21 I'm headed to Peru! I'll be joining Dream Mountains founder Shawn Dawson and 21 other Dream Team members to hike through the Andes along the Inca Trail to Machu Picchu. As the President and CEO of the Ottawa Senators Foundation my efforts will be in support of our organization and funds raised will be used to provide children and youth in the region access to sports and recreational type activities.
Since joining the Ottawa Senators Hockey Club on March 6, 2006, I have been both privileged and blessed to earn a living by making life better for thousands of children and youth in our community. The work is not always easy but it is always rewarding. I suspect the same will be true of this experience. I can't think of a better way to celebrate my 10th anniversary year with the Club then by taking on this personal challenge!
I have set an ambitious target of raising $20,000 as part of this journey. Both corporate and personal gifts will receive a tax receipt. I have pulled together some fun facts about my trip and have linked them to some suggested donation levels for your consideration. Of course any donation amount will be greatly appreciated.
| | | |
| --- | --- | --- |
| Trip & Training Facts | Donation Rationale | Amount |
| Machu Picchu is located 7,970ft above sea level on a ridge between the Huayna Picchu and Machu Picchu mountains in Peru. | .01 per foot to get to Machu Picchu location. | $80 |
| The highest altitude I'll ascend to on my hiking journey is roughly 14,000ft. This will happen on day two of the hike at a location known as Dead Woman's Pass. | .01 per foot of altitude and the thin air breathing to be experienced. | $140 |
| It is estimated 40,000 artifacts including mummies, ceramics, silver statues, jewellery and bones have been removed from the Machu Picchu site. | .01 per artifact discovered. | $400 |
| I will be required to take more than 71,000 steps on my four-day trek along the Inca Trail to arrive at Machu Picchu. | .01 per step I take on the 45km journey. | $ 710 |
| In preparation for the physicality of the trip I have committed to climbing a total of 260 flights of stairs. Each flight consists of 450 stairs up (we don't count the down). This adds up to 117,000 stairs, lots of aches and pains, and hopefully some stellar looking legs. | .01 per stair I'll climb to prepare for my journey in support of kids throughout the region. | $1,170 |
| SUPPORT FOR ALL OF THE ABOVE FACTS | THE CORPORATE COMBO | $2,500 |