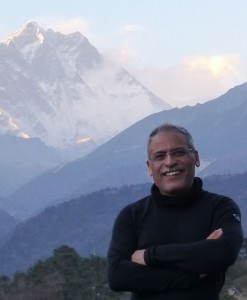 Hello/Bonjour.  My name is Fram Engineer.
A serendipitous sequence of events led me to Shawn Dawson and the Dream Mountains Foundation.      A life-long learner with 3 children and keenly interested in the world, I am anxious to visit the African continent and reach the summit of Mount Kilimanjaro by taking "one step at a time".
Over and above my own desires, I am mindful that this is a charity climb, and I would like to make our local community stronger "one breakfast at a time" by supporting The Ottawa Breakfast School Program (OBSP).
Over the years, and through no fault of their own, I have seen a few children in a school office at various times who "forgot" breakfast on a particular morning and are looking for something to eat.  It's a hard scene to witness, and I was surprised to learn the OBSP serves over 11,300 students in 148 schools last year (over 2 million meals!) and there is a need to do more.
Being active in the community is important to me. I have been a Scout leader for the past 12 years and as a public servant in the Federal government, one of the highlights in my career was to run the Government of Canada Workplace Charitable Campaign for my department.   With these experiences, I can attest to the positive contribution charitable organizations make in building a better world.
Please help me support The Ottawa School Breakfast Program build a stronger, healthier community.
Cheers!