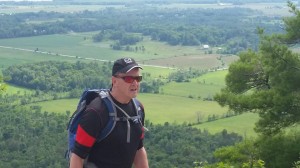 Harry Binks is participating in the 2017 Dream Mountains Kilimanjaro climb, in support of CARE Canada.
In April of 2017, I am going to climb the highest free-standing mountain in the world. Mount Kilimanjaro is not part of a mountain range, and is a dormant volcano. Kili is the highest mountain in Africa, and one of the Seven Summits.
I first got involved with Dream Mountains for the Machu Picchu trip in 2013, then again with the 2015 Everest Base Camp climb which was interrupted by the Nepal earthquake. Our commitment is to pay 100% of our own expenses, and to raise $5,000 for one of the charities supported by the Dream Mountains Foundation (you work as part of a team to support the chosen charity).
There is significant training and teambuilding that goes on leading up to the trek, and that's part of the magic – you arrive at the airport to leave on an adventure with a team of friends who you know already have your back. The other part of the magic is that over $900,000 has been raised so far for local charities, with 100% of the funds going directly to the charities.
And finally, the last part of the magic is what happens to you as a person, when you find out what your limitations are, and exceed them. A profound change, and sometimes a profound reinforcement, comes over many people when faced with the challenges of a journey such as this. I'm certainly not the same person I was prior to setting out on these treks.
This year, I am privileged to support CARE Canada, an organization that does a lot of good, both in Canada and around the world. Founded in 1945, CARE is a leading international humanitarian organization fighting global poverty. CARE works with the poorest communities in 95 countries to:
* improve basic health and education
* enhance rural livelihoods and food security
* increase access to clean water and sanitation
* expand economic opportunity
* help vulnerable people adapt to climate change
* provide lifesaving assistance during emergencies
CARE places special focus on working alongside women and girls living in poverty because, equipped with the proper resources, women and girls have the power to help whole families and entire communities escape poverty. CARE Canada is headquartered in Ottawa.
These are extraordinary times. Please help me support this wonderful charity by sponsoring my trek – it doesn't matter how much or how little you give – please help me make a difference! Please sponsor me at the link below.
I'm looking forward to this. I expect Kilimanjaro to challenge me like I have never been challenged before.