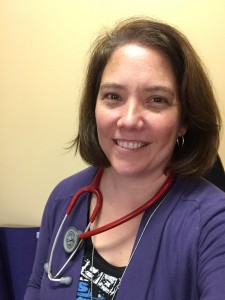 Julie McKenzie is participating in the 2016 Dream Mountains Machu Picchu trek, in support of Ride for Dad.
For the past 4 years I have watched my husband train and go on treks with Shawn and Dream Mountains Foundation. This year I decided that it is time for me to get up and get going along with Jason. He went to Peru in 2013 and wanted to show me the amazing scenery and culture. So here I am getting back into shape and joining for the adventure of a lifetime!
I have chosen to trek in support of Ride for Dad.
I am a Registered Nurse of 20 years have seen many patients be diagnosed, live with and die with prostate cancer. Last year I had the pleasure of knowing a wonderful man diagnosed with diabetes and sent to my clinic for assistance. He did so well getting on track and getting his diabetes under control. On his return appointment he told me that he had been diagnosed with stage 4 prostate cancer and had little time to live. He was upset that his provider had not listened when he had complaints that could have been investigated and the cancer diagnosed sooner. He was sad to be leaving his beloved wife behind. We had a great talk and a hug at the end with him thanking me and telling me that he knew he would not be back as his time was short. He died within 2 months. This broke my heart knowing that a disease that can be easily diagnosed and treated led to yet another mans death.
3 years ago I went way out of my comfort zone and got my motorcycle license and a motorcycle and started to ride along side my husband.
Pair these together and fundraising for Ride for Dad is a no brainer!
Please help me to raise money to meet my goal of $5000.