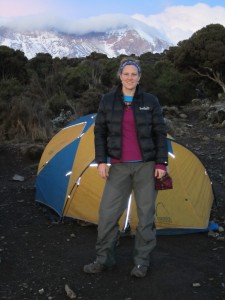 Kristi Johnston is participating in the 2017 Dream Mountains Kilimanjaro climb, in support of ONFE School Breakfast Program.
When I joined the Dream Mountains Foundation in 2010, I knew it was going to be an amazing experience. "Do you want to climb Kilimanjaro?" Shawn asked me. Yes! "Are you committed to raising $5000 for charity?" Yes! I embraced the experience wholeheartedly and without hesitation.
What I didn't know at the time is that I was going to be part of something special. Something significant. Six years later, the Dream Mountains Foundation has grown to include over 100 climbers who have raised close to a million dollars for charity. We've visited Africa, Peru, and Nepal, as well as spent countless hours exploring the Adirondack and the Gatineau Parks. We've accomplished our own personal goals, while raising funds & awareness for both local and international charities (and we're not done yet!)
This year's return to Tanzania is a homecoming for me. A journey back to where it all began. It is both an honour and privilege for me to be able to volunteer alongside Shawn and assist with the leadership of our 2017 Mt. Kilimanjaro Dream Team climb.
My appreciation for nature and the outdoors was instilled in me starting at a very young age. Growing up, we had endless opportunities to go outside, play and explore. Eating nutritious, healthy food at every meal went hand in hand with this active lifestyle.
For many children right here in Ottawa, this isn't the case.
The Ottawa School Breakfast Program "ensures that children in need have access to a healthy breakfast in a safe, supervised environment – to help each child start their day ready to learn.
(It) is a wonderful partnership where schools, volunteers, community organizations and businesses come together to make the nutritional needs of children and youth a priority".
Please join me in building a stronger, healthier community, right here in my home town by supporting the Ottawa School Breakfast Program.