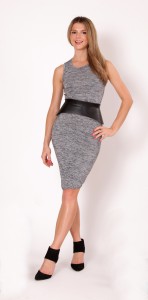 "Why not?" followed by "Where do I sign up!" – spontaneous, excited and filled with anticipation – this was me when I learned about this project. The experience is the perfect opportunity to A) travel to a destination I've never been to, B) do it with such an interesting group of people from my own hometown, AKA "The Dream Team", and C) raise funds for a worthy cause. Not to mention, this will be SUCH an adventure!
I am Lana! I am a personal shopper who is now fully converting into a high-end clothing designer with my own label that will come out this year. I absolutely love dressing women. I have always believed that fashion is not only to make women more beautiful, but also to reassure them, give them confidence. And there's nothing more powerful than a woman who believes in herself. This is exactly why I'm uber-thrilled to be fundraising for CARE Canada – an organization that shares my vision. CARE Canada focuses on women and girls – those unprivileged ones born into poverty all over the world. Hunger, discrimination, and lack of education are NOT exactly the confidence boosters. And CARE Canada – world's largest 65-year-old private humanitarian organization – is working hard to make a difference . Through an array of programs in place, women are given a chance to succeed, gaining that confidence to feel empowered. With our helping hand of course.
And NO, I've never climbed a mountain before! So YES, this trip will be a huge challenge. So let's do this together? I climb. You cheer on! Please show your support.
Always grateful,
Lana