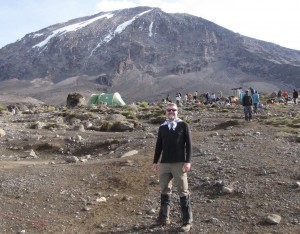 Patrick Fitzgerald is participating in the 2018 Dream Mountains Everest Base Camp trek, in support of Habitat for Humanity.
With the love and support and encouragement of my family, I am honoured to have the opportunity and privilege of being part of the Dream Mountains Team for the upcoming 2018 hike to Everest Base Camp!
A large part of this goal is to have the opportunity to be part of an amazing team with great people and to have the hike of a lifetime. For this, we are responsible for all of our own costs for the trip.
Although this opportunity should not be understated in any way as I am eternally grateful for the experience, it is secondary to the core of what Dream Mountains is about…. raising money for charities and having EVERY dollar raised go direct to those charities!
My goal is to raise $10,000 for Habitat for Humanity.
Habitat's vision is a world where everyone has a safe and decent place to live. Housing for all and human dignity are at the core of Habitat's values. I feel that this is something we can all get behind.
I truly appreciate all of the generous support, in advance, of such a great cause!