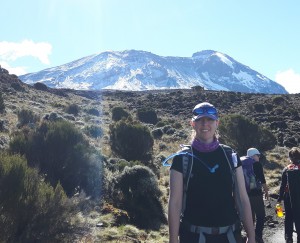 Roberta Brown is participating in the 2018 Dream Mountains Everest Base Camp trek, in support of ONFE School Breakfast Program.
I love hiking!
Whether here at home on P13 in Gatineau Park, road-tripping south to the Adirondacks to attack Mount Marcy, or travelling half way around the world and experiencing Mount Kilimanjaro, I love hiking!
I was introduced to the world of hiking a little over a year ago. Although my first efforts on the hill were exhausting to say the least, I still had enough energy to be mesmerized by the beauty that surrounded me and I was motivated to see more. Fast forward exactly one year and I was stepping foot on Mount Kilimanjaro in Tanzania Africa. Thanks to the Dream Mountains foundation and its founder, Shawn Dawson, this novice hiker has stood on the roof of Africa. And what's more exhilarating than that statement is that I did it for charity.
So, here goes round two making the trek to Everest Base Camp in support of a local charity: ONFE School Breakfast Program.
This is an amazing program and partnership of schools, volunteers, and businesses uniting to prioritize the needs of children and youth in our city. Over 2 million healthy breakfasts are served in safe and supervised environments each year to children enrolled in one of the 189 participating schools under all four Ottawa school boards. No child is turned away and each one is provided a nutritious start to their day.
http://onfe-rope.ca/programs/school-breakfast-program
I invite you to contribute and assist me in reaching my goal of $5000 for this great local charity. Every dollar donated goes directly to the charity and every donation made is motivation for me to make this arduous trek.
Many thanks,
Roberta