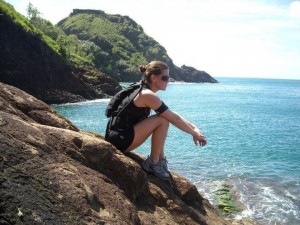 Over the years I have been saying to myself "One day I am going to climb one of those mountains with the Dream Mountains Organization" Well, after a series of twists of events in my life I finally find myself on the Dream Team of 2014 heading to Africa to summit Kilimanjaro, world's largest free-standing mountain.
My name is Stefanie Moore and the charity that I will be fundraising, and climbing to the top to Kilimanjaro through the blistering sun, sweltering heat, rain, strong wind, snow and freezing cold will be for the SOS Children's Villages.
I don't feel that I 'picked' this organization to support, but instead somehow found each other either by coincidence or possibly by fate in a time in my life where this could not have mattered more. This past February I had lived through any parent's worst nightmare and had lost my own children, Noah and Ayden (twins). After their passing there was such an emptiness inside my heart, but at the same time so much love remained, so when word of the 2014 Dream Mountains climb came to be I had immediately jumped at the opportunity, not realizing then what adventure I was truly about to embark upon. By the time I was able to have my vacation organized in order to venture on this journey there was only 1 charitable organization left and it couldn't have been more perfect for me, it was the SOS Children's Villages!
This organization operates 500 Children's Villages in 133 countries throughout the world providing loving homes to abandoned and orphaned children. The SOS Children's Villages also provides those children with education, vocational training and medical attention. In addition to helping these abandoned and orphaned children they also offer support programs for disadvantaged families to help them stay intact in times of crisis.
I am someone who loves and adores children, who understands and realizes that everyone needs and deserves to love and to be loved. Even though my boys may no longer be with me, the love that I have in my heart for them I am confident that I am able to reach my goal of conquering Kilimanjaro in order to raise the much needed funds to support  the SOS Children's Villages so they can care for the children within its communities who do not have a mommy or daddy to care for them.  With your help we can make this possible, we can ensure that these children have a safe warm loving home, food to eat, medical treatment, and education.
There is no contribution that is too small whereas every little bit counts.
Thank you,
Stefanie