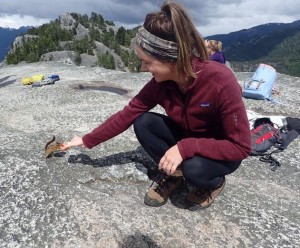 Vicky Castledine is participating in the 2018 Dream Mountains Everest Base Camp trek, in support of Ride for Dad.
It's still totally surreal but here I am writing another bio for my second adventure with Dream Mountains. We're going to Everest, baby!
Hiking up Mount Kilimanjaro honestly left me speechless for a while. There's no possible way to describe the beauty of the scenery, the connections that were made with fellow teammates and the feeling of standing on the 'Roof of Africa'.
This time will be a little different than Killy though; I have a LOT more time to train and have decided to fundraise for a charity that's been a big part of my life since I was 11 years old.
Since 2000, my Dad and I have participated in the Ride for Dad and over the years, with the help of our incredibly generous friends and family, have raised $108,060, making us the 3rd highest fundraisers in Canada!
So, I figured, why not shoot for 1st place?

Please check out www.ridefordad.ca to learn more and see the amazing work they've done over the past 17 years.
Thank you for visiting my page and I hope you feel inspired to donate whatever amount you feel comfortable contributing to this important cause.
Happy trails,
Vicky
"Of all the paths you take in life, make sure a few of them are dirt."
-John Muir